G-20 finance officials begin global economy talks
Link: http://www.ap.org/
Published: 03 june 2010
G-20 finance officials begin talks on global economy in shadow of European turmoil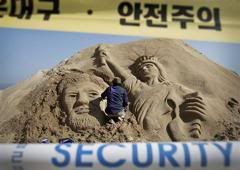 BUSAN, South Korea (AP) -- Finance officials from leading advanced and emerging countries began talks Thursday on reshaping the global economic system to prevent debilitating crises like the one that took the world to the brink of a depression in 2008.
The European sovereign debt crisis, which has triggered slides in global financial markets and the euro, is overshadowing longer term efforts to reform banking regulation and set up financial safety nets for countries emerging from crisis.
The Group of 20 was founded in 1999 and shot into the limelight in late 2008 as the key international forum for managing the global financial system as countries grappled with the crisis brought on by the collapse of U.S. investment bank Lehman Brothers.
The gathering brings together rich countries like the United States, Japan and Germany, emerging powers like China and developing economies Indonesia and South Africa, who have demanded and gained more say in the wake of the crisis.
Japan's finance minister, Naoto Kan, will miss the Friday gathering of the Group of 20 ministers, as the straight-talking fiscal conservative declared he plans to run in a ruling party election Friday to replace Yukio Hatoyama, who resigned Wednesday as prime minister.
Regional markets got a boost Thursday after gains on Wall Street thanks to stronger housing figures encouraged investors, who snapped up shares after a monthlong slide.
Ministers will be looking to shore up confidence in the markets and in the $1 trillion bailout plan for ailing European economies, hoping to stave off any wider damage to the world economic recovery.
The G-20, which met in Washington in April, is gathering again ahead of a summit in Canada later this month is mulling proposals to hand to leaders to help ensure "strong, sustainable and balanced growth" for the global economy, in the words of the organization.
G-20 deputy finance minister and central bank governors began meeting Thursday to prepare a draft communique that their bosses will discuss Friday and Saturday, said Kim Young-min, a spokesman for South Korea's Ministry of Strategy and Finance.
South Korea, which assumed the rotating Group of 20 chair this year, is hosting the meetings in the southern port city of Busan. Seoul will convene a G-20 summit in November.
The G-20 is trying to come up with a new financial architecture, having agreed at a series of summits in the United States and Britain since late 2008 on the need for tighter financial regulation to prevent the kind of Lehman-induced turmoil that could potentially sink the global economy.
But agreement is far from certain on proposals for a bank tax, for setting new standards on how much capital banks need to protect against a future financial crisis and erecting "financial safety nets" to help emerging economies vulnerable to financial flows.
The issue of a bank tax to pay for future bailouts has proved divisive. The U.S. and Europe favor the move, but others such as Canada and Australia oppose it given that their banks weathered the global crisis intact.
U.S. Treasury Secretary Timothy Geithner said Wednesday he did not think the G-20 would agree at this week's meeting on the bank tax issue. But he said differences were narrowing in other areas, including capital standards.
"We want to accelerate progress on a global agreement on core reforms," Geithner told reporters at a briefing in Washington before departing for Busan.
AP Economics Writer Martin Crutsinger in Washington contributed to this report.